CARPOOL gladly accepts direct donations in the car, by mail, or online! Remember that CARPOOL is a registered 501(c)(3) non-profit, so your donation is tax deductible.
Online
For online donations: please click here and complete the form using the instructions below.
Under "Select a Unit or College" choose "An Unlisted Account (Enter Manually)".
Under "Giving Account Name or Number" type "CARPOOL".
Then enter the amount or choose the amount you wish to donate.
Fill out your personal or company information.
Then fill out your card information and choose from the several methods of donation (in honor, corporate matching, one time or recurring, etc.)
Mail
For donations by mail: we gladly accept checks made out to "CARPOOL". Please mail all donations to:
Sam Greenwald
CARPOOL
Department of Student Activities
TAMU 1236
College Station, TX 77843-1236
Gala is CARPOOL's largest yearly fundraiser and is a celebration of CARPOOL's past, present, and future. It includes a live and silent auction where most items are donated from gracious businesses and individual supporters. We have already had our 2022 Gala, but we're already starting on getting ready for our 2023 Gala. More information will be posted when available!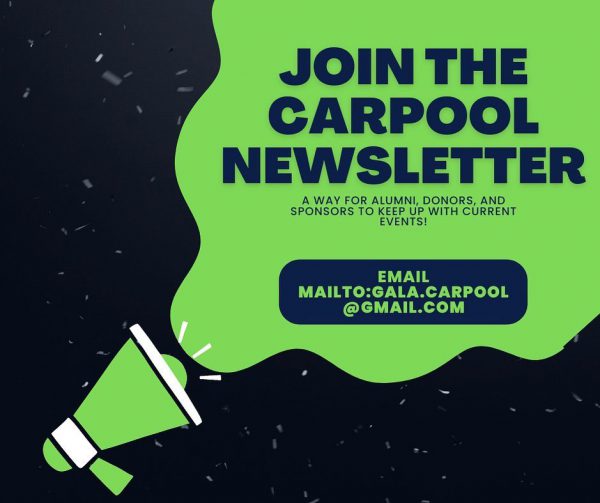 Always looking to the future, CARPOOL has created an endowment to one day provide the organization with a constant source of funding. If you are interested in learning more about CARPOOL's Endowment, please contact our finance director Sam Greenwald at finance.carpool@gmail.com.